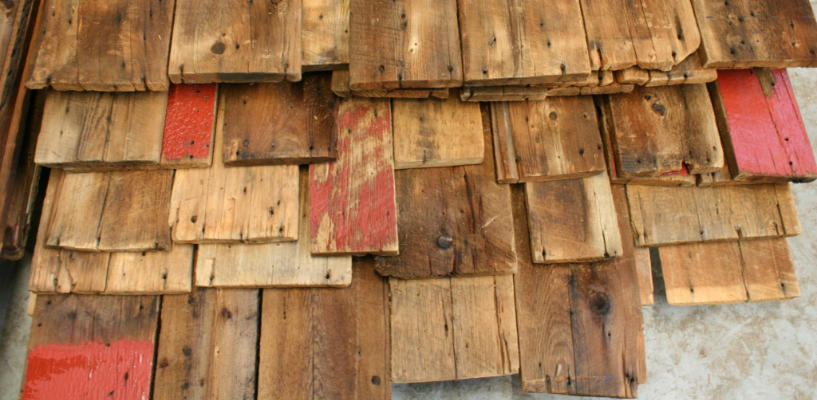 Everyone who sees our Rustic Pine Naily Roof Boards wants it. Sometimes even if they originally came for the Weathered Gray Siding. We believe we were the first ones to even reclaim this material do to the labor intensity of pulling all the nails and we have perfected our system of denailing and cleaning this material over the years.
However we have come to realize that our customer have no idea how much work we put into this particular material compared to our other products. So here is the process.
After all the metal roofing, cedar shake, or asphalt shingles are removed from the roof while trying to not damage these boards or fall off the planks are as carefully removed from dangerous dizzying heights. Sometimes we drop the whole barn or use the forks to get at these more safely but then we lose some stock.
Then they are gone over at the barn site as carefully as possible to pull any nails that may damage the next board during transport. Called surface denailing, helpers do not have to pull anything not sticking up above the face of the board at this time. Even though we pull buckets loads at this point there are still plenty of nails either bent over or broke off below the surface that they cannot see due to 150 years of dirt.
Stacked into a nice 4' bunk for our forks and warehouse layout to work efficiently this material is transported to the warehouse and unloaded inside. This actually takes some time working with random width boards to keep it around 4' wide going from longest to shortest in length.
Then on a sunny dry day (very rare in Michigan) this material is loaded onto some heavy duty saw horses where we begin to wash the dirt off while critiquing each board on its quality. We generally start on the back side with nail sets painstakingly backing out hundreds of nails till your fingers are sour as we wash the boards to reveal them. We then go over that side with a wide putty knife that hits anything sticking up which tend to be a whole lot of more nail tips we missed.
The board is then flipped and washed on the other side as we begin pulling hundreds of more nails that we exposed or popped up from the other side. What customers don't realize is most of these are bent over or broken of points with no heads from when the barn shingles are removed with a shingle shovel for reroofing many times over the years. We use special tools to lift or pull them. We even try to pull any below the surface at this time and are pretty good at it. There are always some left behind that are too deep to reach from either side without damaging the look of the material. Again we go over it with a putty knife to catch a bunch we have missed by eye site. Then a final rinse on both sides to wash out a lot of rusty dirt from the now empty nail holes.
There is a lot of careful blending and blasting particularly dirty spots while not leaving power washer marks behind. Our power washing system takes a long time to master to not leave any unappealing uneven marks on the boards. And we try to trim any bad ends that were missed at the barn site at this time.
The boards are then leaned up to dry shortest to longest otherwise the sun is blocked by the longer boards. They must be flipped and rotated to get them completely dry in one day so we can put them away before it rains, snows, or dews here in Michigan. If they are stacked wet like our competitors they will mold and smell bad. When we are done our roof boards smell wonderful. If we cannot get them dry the labor goes way up by us having to sticker them inside which means stacking them with battens between them to air dry. This also means we have to unsticker them later and restack them for final sale. In the winter we always have to sticker them and dry them with heaters, fans, and a dehumidifier.
Preferably while the boards are leaned up drying we measure and describe each board so we know exactly what we got. We take the time to put that info into our inventory list so you know exactly what you are getting when you purchase lumber from us.
Now you know why we have to charge enough for this material. This is by far one of our favored products by customers with the least amount of profit on our end. We believe our competitors are only selling this material dirty which would also leave a lot of broken nails that can scratch and damage the next board plus. At the very least they are not taking the care and time we do here at TLC. Thus the name. Thank you for reading.